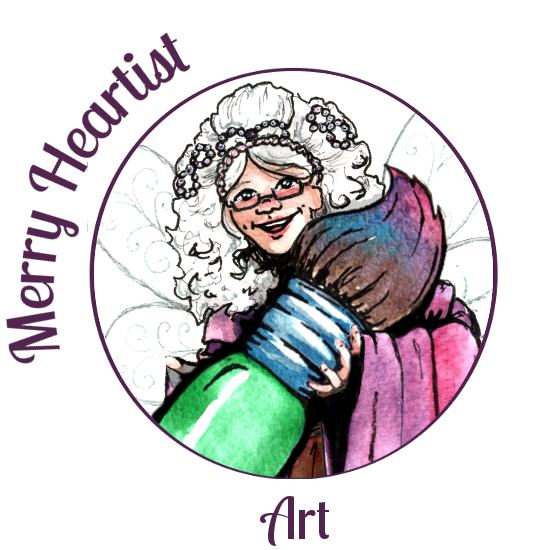 If you enjoy reading this, or find the information helpful, please consider SHARING it with friends you think might enjoy it!
Things You will find in this very first newsletter from Esther L Jones, The Merry Heartist:
Gallery Store and Zazzle Store
Just in time for the gifting season, I have a new store! Now you have even more options of products printed with my painting images. Turns out, different Paint on Demand (POD) stores have different product options. Zazzle has so many delightful products that I just had to try it out.
On Zazzle, you can even take my images and use them to create your own products! I ordered myself the cutest apron with one of my paintings on it, and created some flip-flops in a floral style…I'd never even thought about flip-flops. They are kind of cute!
Don't worry, I still have my Gallery Store right here on this site. I recommend this one for high quality prints for framing.
Zazzle Store–The Merry Heartists Art
COMMISSIONS ARE OPEN! At this time my commissions are open. They will close at the end of October so that I have time to finish the pieces that are intended as gifts. Here is a link for more info: Commissions
Recent Posts and Paintings
There's a moment, a special moment, a few hours after midnight, early on Christmas day. The silence is drenched in peace and pulsing with sacred nuance. Few experience it, but if you have, you never forget the stillness and joy of it. At our house we have a tradition that on Christmas Eve only, the…
How to get the beauty from inside to outside Gladness breathes. When you have gladness, let it breathe out into the world. God knows we can all use some! It is my firm belief that there are things inside us that need to come out. Many times these are things that will make the world…
This is Whiskers. She belongs to my very good friend Sandy, whom I visited back in June during the IAPS convention. She came and sat on my knee, and I couldn't resist snapping a photo with hopes of painting her. There will be a short slide show video of the process on YouTube soon. No…
Where am I?–Merry Heartist Happenings
I have SO MUCH going on right now! It's very exciting. Here is a list of the activities and events on my calendar. I'd love to see you at any of the events.
Wednesdays from 4:15-6 or 6:30–I will be at Numinous painting live! These sessions will begin on 9/11/19. Canvas and Coffee will be a fun way to share art with the community and will benefit certain charities as well. Any purchases made from my easel or my display will result in a 20% donation to a charity. The first charity I will be donating to is Marble Falls Education Foundation. Teachers like me benefit from the work of the MFEF, which means our children recieve higher-quality education. It's a worthy cause. Come on out, buy a coffee and watch me paint.
September 16–A blog post written by Yours Truly will be posted on the Unison Pastel blog! I'm excited about this. Check it out here: https://www.unisoncolour.com/blog/ I will be sure to announce it on my social media accounts a day or two before it goes live.
September 28–Teaching a pastel primer course at Highland Arts Gallery along with my art buddy Kathy Meador. Call the gallery to sign up: 830-693-7324.
October 5–Plein Air with friends from Central Texas Pastel Society. We have so many lovely places here, Kathy and I have invited our club to join us to paint some of it!
October 9-13–Burnet Plein Air Festival. My first plein air competition! It's going to be a lot of fun–and maybe a bit of a challenge to both work AND get out and paint! I'm in it for the fun. If you know of an awesome scene you think needs to be painted in Burnet County, please message me!
October 26-27–Spicewood Arts Festival. My art buddy Kathy and I team up again to host a booth at this event–where I'll again be painting live and we will have both original artworks, framed and unframed, as well as items printed with our images for sale. I will have the lovely Christmas cards made from my Light and Silence painting.
November 2–I will be working at the Highland Arts Gallery for our Fall Show! It's so great to see so much lovely art.
November 17–Annual Recital and Art Show! Last year's was such a hit, we're going to do it again. Snacks, music, and art…what an afternoon!
Whew! These things will be in addition to all the wonderful activities that surround the holidays…as an elementary music teacher, it gets pretty hoppin' from now until after Christmas.
Prayer Requests
Thank you for your prayers for my eye surgery. It was successful, and my sight has already improved.
Some of you know that my mother is battling lung cancer. She has had some adjustments to her medication–please pray that they will be effective to help keep the cancer contained.
My daughter and her husband are now fostering a little girl, with plans to foster more children at a later date. This is not an easy thing to do. Your prayers would help so much.
Thoughts on a Theme
Lately I've been realizing that keeping joy takes constant effort. I myself am the biggest enemy! I steal my own joy by trying to figure out how to do things better, or ruminating over things which I imagine are under my control, but really aren't.
My prayer has been to honor God's name, but how can I honor His name if I'm not trusting in His ability to bring me through things…if I'm trying so desperately to cover all the bases and think of everything, then I'm not trusting His process. It is good to make plans, yes–especially while praying and after praying. But the rest we are able to relax and trust to God. And when we do, the joy will return. I am committed to pursuing peace and joy in finishing out the year.
That's it for this issue! I'd love to see you at any event on my calendar. Call me if you are interested