I just read this quote from an up-and-coming artist named Claudine Gévry. I have experienced what she describes, though it takes courage! Most recently, in fact, I reworked a large area of the painting below because I could see that I'd gotten the perspective wrong once I photographed it (and posted it on Facebook. Sigh. Someday I hope to get better at seeing such things.)
I think it is a great reminder that we, too, can decide to rework everything, not just in our art but in our life… And the process can be exhilarating.
Not everything I do has to be a masterpiece. There was a first version of Winter Lights that was too rigid and lacked freedom. I let it sit for awhile and then decide to remove part of the pastel with an eraser. Then I reworked the whole painting like I had nothing to lose. It was exhilarating.
Here below is my final painting of 2017. Seriously! I reworked it after 9pm last night, 12.31.17. I realized that the perspective was wrong even though I thought it was already one of my best paintings… But it just wasn't right, the background came too far forward because the bushes in front were too small.
I took a deep breath, grabbed a dark pastel, and started courageously and joyfully scrubbing in bigger bushes. Took about 10 minutes, and my painting wasn't ruined as I feared.. rather, the background receded as it ought and the focus is where it needs to be and all of the sudden I felt I was walking in that field. (The shadow at the top is from my easel).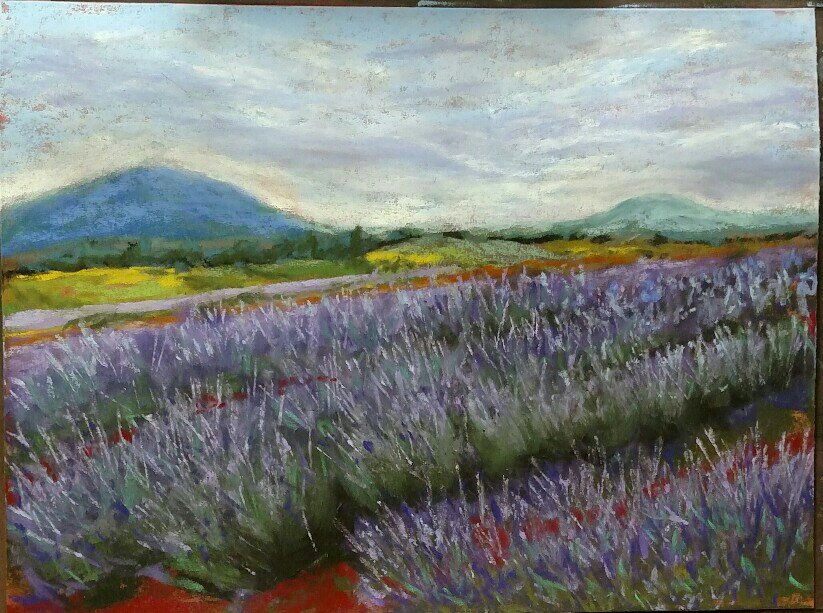 I'd love to hear if you've had a similar experience or how you are planning to rework your life in 2018.
Subscribe to Blog via Email